82nd Institute Foundation Day Celebration
The ICAR- National Institute of Natural Fibre Engineering and Technology, Kolkata celebrated its 82nd Foundation Day today. In this precious occasion, renowned Scientist and former Vice-Chancellor, Dr. Ranajit Kumar Samata was graced the programme as Chief Speaker. Smt. Kamala Bisth, Under Secretary. Agriculture Engineering Division marked her presence as Guest of Honour from Indian Council of Agriculture HQ in the programme.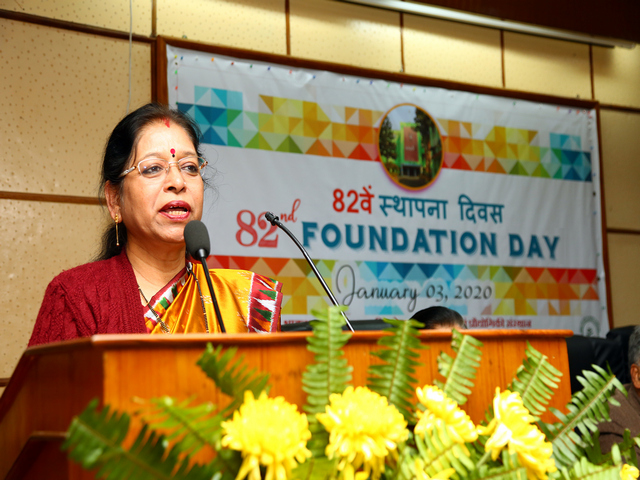 Dr. Ranajit Kumar Samanta elaborated the role of Indian Scientists in development of Indian Agriculture. He also suggested the all level of staff regarding improvement of output and work culture. Dr. Debanjan Sur, Chief Guest of the inaugural session, describe the role of ICAR-NINFET and its journey from JTRL to NINFET.
The Programme was started with welcome address by Dr. N.C. Pan, Director of the Institute and told about importance of Natural fibre and the disadvantage of synthetic fibres.
The Guest of Honour, Smt. Kamala Bisth congratulated the institute staff for vibrating activities of the Institute and its contribution to the farmers particularly in jute agriculture.
The Chairman of the organizing committee, Dr. S.N. Chattopadhyay, Principal Scientist, presented the diary of events of the Institute for last one year and its total development. A large number of ex-employees, present employees and several dignitaries from nearby ICAR institutes, Jute Industries, incubates, small entrepreneurs and artisans present in the programme.
Dr. S. Debnath, Principal Scientist, proposed the vote of thanks and total programme was coordinated by Dr. L.K. Nayak, Principal Scientist.